Sámara Shuttle Costa Rica
Request your quote!
Sámara Shuttle is a local-owned, affordable, and reliable transportation company.
Reach out today and book your transfer or transfer-combis easily and uncomplicatedly. No hassle guaranteed.
Private & Shared Shuttles
Experienced Bilingual Driver
Most popular destinations
Your destination is not listed here?
No worries, just contact us and we'll check if we can get you there.

Local driving for small and big groups.
Supplies delivery from PriceSmart, Walmart, or other stores outside of Sámara.
Officially certified by CTP (public transportation council) and ICT (Costa Rica tourism institute).
We follow all of the logistics and safety requirements.
Public transportation licensed drivers.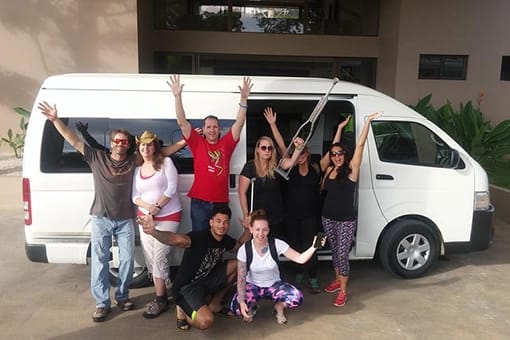 Gerardo Arias – the founder and trusted driver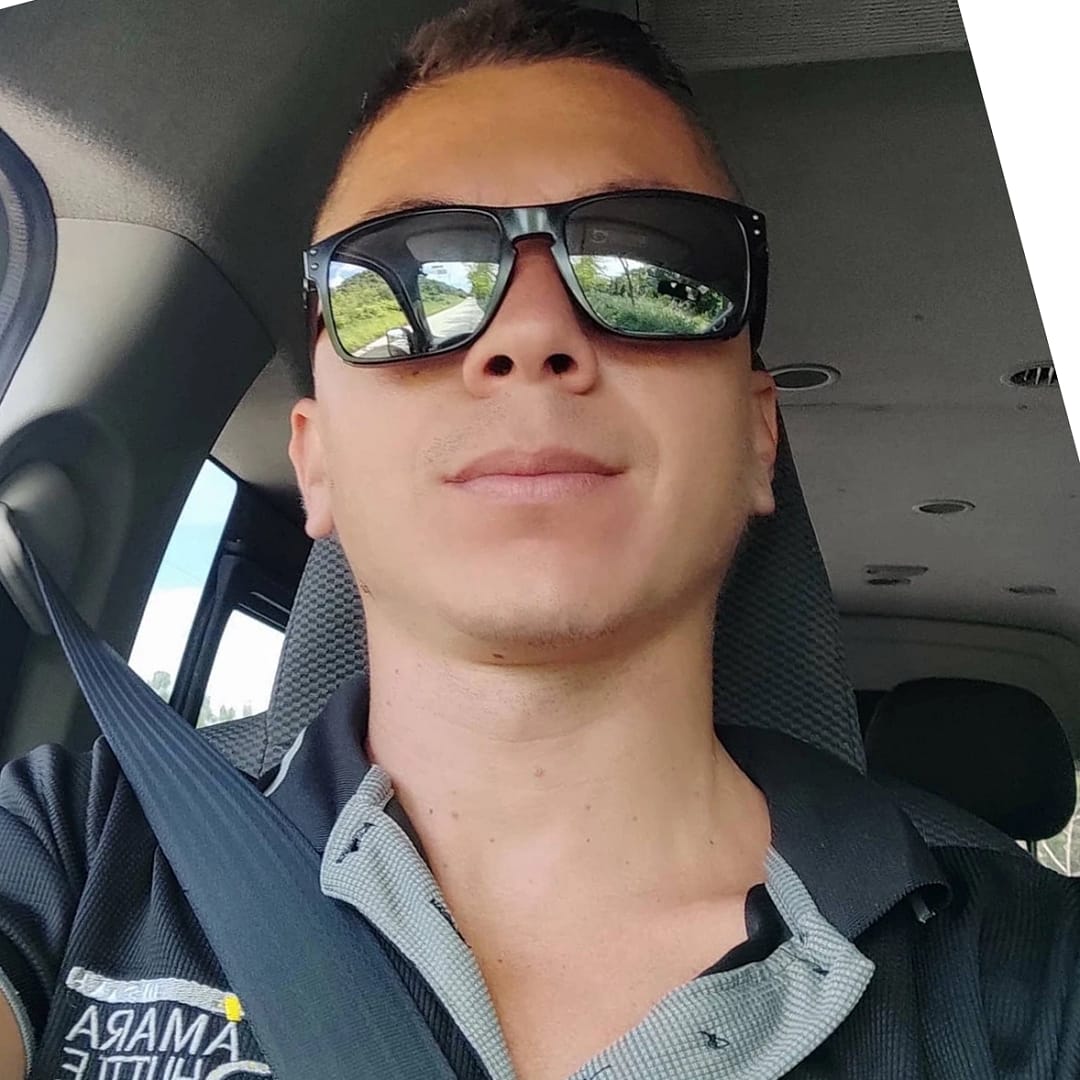 Gerardo is a local from Sámara, Costa Rica.
He is well-known as an easy-going, bilingual, and reliable driver for airport pickups and drop-offs, and other transfers and tours.
He has been working in the transportation business since 2016.
Vehicles
All trips are offered as private or small group transportation.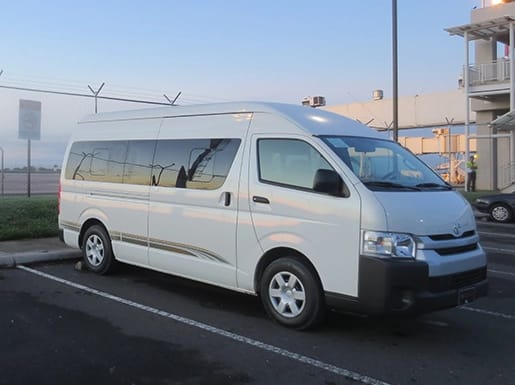 Vehicle Type: Toyota Hiace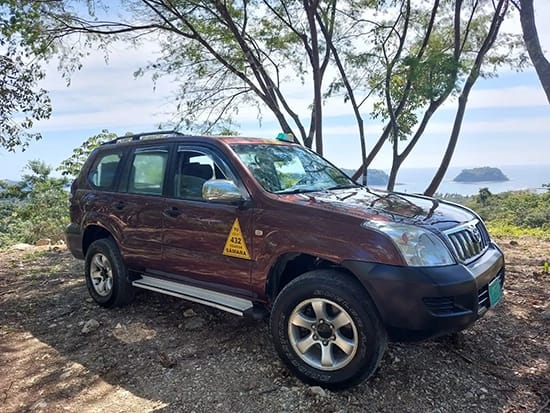 Vehicle Type: Toyota Prado

"We have used Gerardo for years. He has provided shuttle service between Liberia, Samara and Tabor. He is always on time and takes us great places for lunch. We've done private day trips and Gerardo always stops at wonderful places we would never find on own. The van is very clean and there is a cooler with cold water available. We are already booked for Costa Rica next year and will be using Gerado again."
Tripadvisor Review
"Gerardo was wonderful. We hired a private shuttle service for an ~ 3-hour transfer from Samara. Not only did Gerardo arrive on time in an immaculate vehicle but by the time we arrived at our destination he had assisted in securing our lodging and activities. I can say with confidence if you contact Gerardo before making any other plans in Samara your trip will be better for it."
Graham A.
"Absolutely fantastic experience with Gerardo and his father. I was about 6km out of town and they took care of my any time I needed a shuttle to and from my house. Gerardo was very pleasant and kind. He gave me some tips for things to do in the area.
10/10 would recommend and will 100% use this service again! making any other plans in Samara your trip will be better for it."
From TripAdvisor
Booking a Shuttle Has Never Been Easier
Fair prices
Negotiable Rates
Reserve by Phone
Call Us 24/7
Reserve Online
In Just a Few Clicks
We offer personalized Trips
Plan your trip with us. We will help you on how to get from A to B and then to C.
Do you have an itinerary with several stops?
No problem at all. We also offer personalized transfer trips. Feel free to contact us below and we will plan your trip together.
What else you might want to know
What are your main routes?
At our shuttle company in Costa Rica, we take pride in offering an extensive network of main routes that cater to diverse travel needs and preferences. One of our most sought-after routes begins in the town of Sámara and spans across the breathtaking region of Guanacaste. From Sámara, you can embark on unforgettable journeys to some of the most popular destinations in the country.
If you're looking to soak up the sun and enjoy the laid-back vibes, we provide shuttles to vibrant beach destinations like Tamarindo and Brasilito.
For those seeking a taste of urban charm, we offer shuttle services to the bustling capital city, San José, and its international airport.
For nature enthusiasts, our shuttles also journey to the wondrous Monteverde, where you can immerse yourself in the magical cloud forests, teeming with unique flora and fauna. Additionally, we provide transportation to the adventure-packed Arenal, home to the majestic Arenal Volcano.
If you wish to venture further, our shuttles can take you to the border of Nicaragua, offering an opportunity to experience the distinct culture and landscapes of the neighboring country.
No matter where your wanderlust takes you in Costa Rica, our shuttle company is dedicated to ensuring a comfortable, safe, and enjoyable journey. With our reliable and professional drivers, you can rest assured that your travels will be seamless and hassle-free. So we got you covered. Contact us today to book your next unforgettable journey through the captivating landscapes of Costa Rica.
What is a shared shuttle?
Shared shuttle service is a convenient and cost-effective transportation option offered by our shuttle company in Costa Rica. It provides an excellent way for travelers to reach their desired destinations, including transfers from and to the two major airports and various popular locations such as Liberia, Tamarindo, and more. With a shared shuttle, you'll be sharing the ride with fellow travelers who are headed in the same direction, allowing you to split the cost of the journey and reduce individual expenses. Our shared shuttle service ensures a comfortable and safe travel experience, with professional drivers who are well-versed in the local routes and committed to providing you with a seamless journey from start to finish. Enjoy the scenic beauty of Costa Rica and make new friends along the way with our reliable and efficient shared shuttle service.
What are the distances within Costa Rica?
From Sámara to
(These times are approximate, it always depends on the traffic.)
Liberia Airport – 2 hours
Nosara – 1 hour
Tamarindo – 2 hours
Santa Teresa – 3 hours
Jaco – 3 hours
Monteverde – 4 hours
Arenal – 4 hours
San José Airport – 4 hours
For more distances or please do not hesitate to contact us.
What type of payment is accepted?
We do accept credit cards (VISA, Master Card, etc.).
You can also pay by cash.
Please contact us if you have questions regarding the payment methods.
Do you have child safety seats?
Yes, Sámara Shuttle cars have child seats if there is a need.
If your child is under 5 years old, the law requires him/her to be in a child seat.
How do I reserve a shuttle?
1. Fill out the booking form, request a quote, or contact us directly. You can find our contact details at the bottom of the page. 
You must book a minimum of 24h in advance. Our transfers are scheduled and we are not available immediately.
2. Fill out the data (Name, Email or Phone, Pick-up Location, and Destination…)
If you want to book a personalized trip please get in touch with us directly.
3. As soon as we have checked the booking, you will receive an email with the booking confirmation from us.
Contact Us
It will be a great pleasure to be part of your journey and help you as much as you need us!